Transparency should never stop
at the factory gate.
We carefully select the cotton farms and home textile factories on site. We build long-term relationships with our partners whom we respect as part of our employees and our family.
Uncompromising quality
We have found the ideal partners in India that meet our quality, environmental and social criteria.
The factories we work with produce different types of bed linen with one thing in common: "the search for excellence".
They select the best cottons, use only long-fibre cotton (also called Egyptian cotton) that is incredibly soft and resistant to guarantee softness and quality over time, and are able to weave and knit fine, high quality fabrics. Each piece is meticulously checked by hand.
The owners are involved in the supply chain of GOTS and Fairtrade organic cotton from the fields of the agricultural cooperatives to their workshops. They control each step following a rigorous process. Kalani has implemented a quality control system. It participates in the selection of cotton, pre-finances its farmers' seeds and works directly with the organic cotton cooperatives, while applying strict quality procedures controlled by experts in each field.
Our cotton
Kalani products are made from 100% certified organic and Fairtrade cotton, produced and certified according to organic farming standards. In order to guarantee the quality of the best cotton and the sustainable development of the farms that grow it, we have partnered with other small and medium sized European, American, Japanese and Australian brands.
Thanks to this coalition of brands and this unique approach, we are one of the only brands in the world able to guarantee local communities cotton purchases that allow farmers to live and work with dignity in terms of health and finances.
Our certifications
It is our actions that best demonstrate our approach to sustainable development. However, certificates provide a foundation for integrity verified by third party organizations, and we believe that controls and audits are always necessary.
We are certified :
GOTS (Global Organic Textile Standard), by ECOCERT Greenlife N°163195, Fairtrade N°35216, by FLO-CERT. Vegan, approved by PETA. All our products are REACH Compliant, which means that they are produced with components and products that meet European health norms.
Our factories are audited and certified SA8000, they guarantee a respect of social conditions and respect the rules and code of conduct of the ILO (International Labor Organization - UN).
Transparency does not stop at the factory gate. This is why we are taking you on a small tour in India to discover these factories that work to achieve our project and participate in the improvement of the world because, as you know, it is the little drops that make the big rivers...
Our bed linen factory
Founded in 1934, it was one of the first Indian factories to be certified "Organic Cotton GOTS" in 2002.
All its customers are sustainable brands from all over the world, who only buy certified organic products from them. It is also Fairtrade and SA8000 certified.
It also has the very rare peculiarity of being 10% owned by a cooperative of organic cotton farmers.
Our dear farmers are therefore also directly involved in the production of our beautiful sheets.
This factory is located in the province of West Bengal in the North of India. We started working together in early 2016.
This factory produces different types of bed linen with the best cottons. It weaves and knits fine, high quality fabrics, of which each piece is verified one by one.
188 workers, both men and women, have been working here for many years in a spirit of mutual respect.
Our bedding factory
Founded over 150 years ago in France, this family-owned factory specialises in French duck down and feather bedding. It also supplies other high-end European manufacturers with its own raw material.
The factory is of course equipped with an efficient ETP water treatment plant. Its customers are mainly luxury bedding brands. The factory is Downpass® certified (EU standard that guarantees compliance with ethical criteria, quality and traceability of feathers and down, for the protection of animals in breeding farms), Oeko-Tex 100® class I for fillings and Oeko-Tex 100® class II for envelopes and finished products, GOTS organic cotton (envelopes made of organic cotton), EPV (Entreprise du Patrimoine Vivant français), certification of Excellence for the processing of down and feathers, ISO9001 and ISO14001.
It is located in the South West of France. We started our collaboration (and to work together) at the beginning of 2022
This factory is specialised in the production of high quality products, filled with French white duck down and small feathers.
97 women and 67 men provide the workshop with their know-how and expertise.
Our Luxury Towels & bath linen factory
Our first productions of luxury towels and bath linen are made in Belgium. Following big changes in the factory ownership, and the fact that they decided to focus on their own production, it was not possible anymore to produce our products, we had to change and find a new partner factory.

It was quite a challenge to find a factory meeting all our criteria's. We couldn't find another one in Belgium or closer, but we've found the perfect match with a factory based in Turkey which was meeting all our sustainability requirements while keeping it the most local possible. In reality we found a better partner because the organic cotton is local and doesn't need to travel long distance such as before.

Founded more than 40 years ago, our new Towels and bath linen supplier partner is specialised in the production of luxury bath linen for the most prestigious brands in Europe and the USA. The factory is one of the few in the world being totally vertically integrated from spinning, to weaving, dying, finishing and sewing.

The factory is organic cotton GOTS certified, but not only. For our production, 100% of the organic cotton is local, from an area of 80Km around the factory, and they source the best long staple fiber organic cotton from the Aegean region of Turkey, were best Turkish cotton are naturally grown, with the natural moisture of the Aegean sea and without human water irrigation. This partner factory know precisely where the cotton comes from with full traceability.
100% vertically integrated Manufacturing from spinning, to weaving, dying, finishing and sewing. Everything at the same location in the Aegean region of the west part of Turkey.
This factory is specialised in the production of luxury bath linen for the most prestigious brands in Europe and the USA. It is able to respond to any specific request thanks to its expertise and experience.
177 women and 449 men work there daily.
Our throws/plaids factory
Founded in 2010, this factory specialises in terry, plaids and throws.
Its customers are mainly sustainable brands that buy only certified organic products from them.
The factory is also certified Organic Cotton GOTS, Fairtrade and SA8000.
It is located in the province of Uttar Pradesh, in the North of India. We started working together mid-2016.
it is the quality of their flat knits, ideal for our throws/plaids, that seduced us.
212 workers, women and men, work there with respect.
Our hotel Towels and bath linen factory
Founded in 1990, one of the most important towel factory that is committed to sustainability especially on energy consumption and water recycling. They are Fairtrade cotton and Organic cotton GOTS certified and SA8000 Social Compliance Responsibility certified.
It's located in the Punjab province in the North of India, we use their hotel towels since 2019.
this factory produce all kind of towels but particularly organic and Fairtrade towels for the Hospitality industry. The towels are made to resist to the most demanding hotels industrial laundries.
730 workers, both women and men.
Our Luxury Towels & bath linen factory
Founded in 1953 in Belgium, our organic de Luxe bath linen factory is the European market leader for bath linen. Equipped with the latest technology machines, the factory remains the leader in the face of certain imports from lower cost countries.

Environmental protection is one of its priorities. The factory is therefore certified organic GOTS, Fairtrade Cotton and Cradletocradle for some of its productions.
100% Belgian factory; weaving and dyeing in Wallonia, sewing and finishing in Flanders, this factory produces 100% local made in Belgium.
This factory is the leader in Europe, it produces for some of the most prestigious brands in the world. It is able to respond to any specific request thanks to its expertise and experience.
71 women and 41 men work there daily.
Our Loungewear factory
Founded en 2005, our Founder has been working with this factory in past and did consultancy during 18 months to help them to become a factory that makes the difference in today's Fashion industry.

Bangladesh has a bad name in the press, since the Rana Plaza disaster in 2013, however, same as in every textile production country, there are bad factories, medium range factories and very good factories. This one is state-of-the-art and almost unique !

The factory is full of certifications, GOTS, OCS, RCS, Fairwear Foundation, Ethical Trading Initiative, BSCI, Oeko-Tex … only to mention the most known standards and CSR commitments. Most important is that our Loungewear is produced there with Belgian partners that has a local office and a team of people to ensure quality controls, the environmental impacts and the social conditions every single day of production. This factory is also under the close monitoring of Fair Wear Foundation, a Dutch NGO that develops the most Best Practice and multi-stakeholder CSR system in the Fashion Industry.
Our Loungewear is proudly made in Bangladesh, in a sustainable factory in the middle of the forests of the north of Dhaka. We have started working with our loungewear collection in 2021.
They are probably the factory in Bangladesh producing the biggest volume of sustainable clothing.
They are specialized in sustainable knit apparel made from organic, sustainable & recycled fibres. (Even if they still have part of their production made from conventional fibers especially for UK brands)
52% of Women and 48% of Men, working in harmony in a factory that invest a lot in internal complain grievance system, anti-harrasment trainings and committees, social projects, to be distinguished from many other factories in Asia.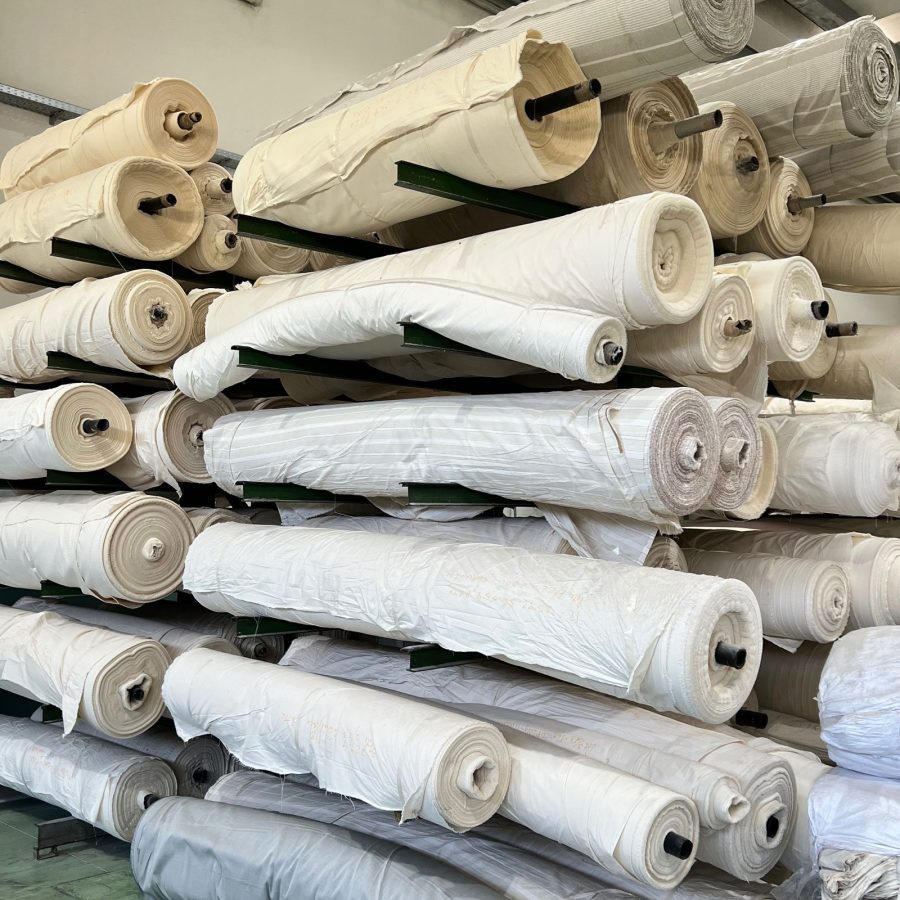 Our linen factory
Founded over 100 years ago in Portugal, this family-run factory specialises in linen bed linen, but also manufactures cotton fabrics. It is fully integrated from the yarns onwards, and also supplies finished fabrics to other leading Portuguese garment manufacturers. The factory is of course connected to a public effluent water treatment plant, as required by environmental legislation. Its customers are mainly luxury bed linen brands from all over the world. The factory is GOTS, Oeko-Tex 100® class I, Sedex and ISO9001 certified.
It is located in the north of Portugal, in the cradle of the Made in Portugal home linen industry. We started working together at the beginning of 2023.
This factory specialises in the production of high-end bed linen thanks to its century-old know-how and the expertise of its textile engineers.
68 women and 110 men contribute their know-how and expertise to this factory.
The manufacture of our handmade candles
The candles that smell like cotton flower and fresh linen, declined in 2 variations (one for the morning and one for the evening) are hand-made in Brussels by Isabeau in her Workshop in the heart of Brussels. We have realised this partnership following a beautiful encounter during xMas 2017.
The candle containers are recycled and the candle components are 100% vegetable, natural, vegan and chemical free.
To learn more, read the article about this beautiful collaboration.