Soft, smooth, cool, crispy, cosy
and wonderfully comfortable.
Kalani home linen is available in different fabrics, all exceptional and providing different sensory experiences.
All for extreme softness in all seasons.
Cotton Sateen
Soft & Smooth
The must-have, the ultimate luxury, the softest and warmest quality of fabric, without being hot. Sateen is a supple, slightly glossy fabric on the front side (before first washing) and dull on the reverse side, soft and beautifully draped. In sateen cotton, one of the threads overlaps 4 perpendicular threads before passing under a thread and starting again.

Overlapping many threads brings the radiance and softness so characteristic of sateen. Sateen cotton ensures outstanding ease of care (notably ironing) and long lifespan, the weaving is both dense and tight: our satin has a thread count of 300 threads/inch² (118-120 threads/cm²)*. Contrary to misconceptions, satin cotton does not slide, screech, is not cold and can be ironed very easily.
Of course, viscose satin and polyester which is sold at a low price by the mass market since the 70s have nothing in common.
Cotton Percale
Cool & Crispy
It's the hotel quality by excellence and an alternative to sateen cotton. It is a very fine cotton fabric of a superior quality.
The warp threads and the weft threads overlap as simply as possible: the weft thread passes over, then under the warp thread, one after the other. Percale is costly to weave, but very robust and resistant. It is smooth to the touch, soft and brings a sensation of freshness. It enables you to achieve two different looks: ironed, it gives a clean, hotel look while non-ironed it takes on an exquisite appearance of being natural and creased. Our percale has a thread count of 300 threads/inch² (thus 118-120 threads/cm²)* and the dense and tight weaving ensures long-lasting bed linen.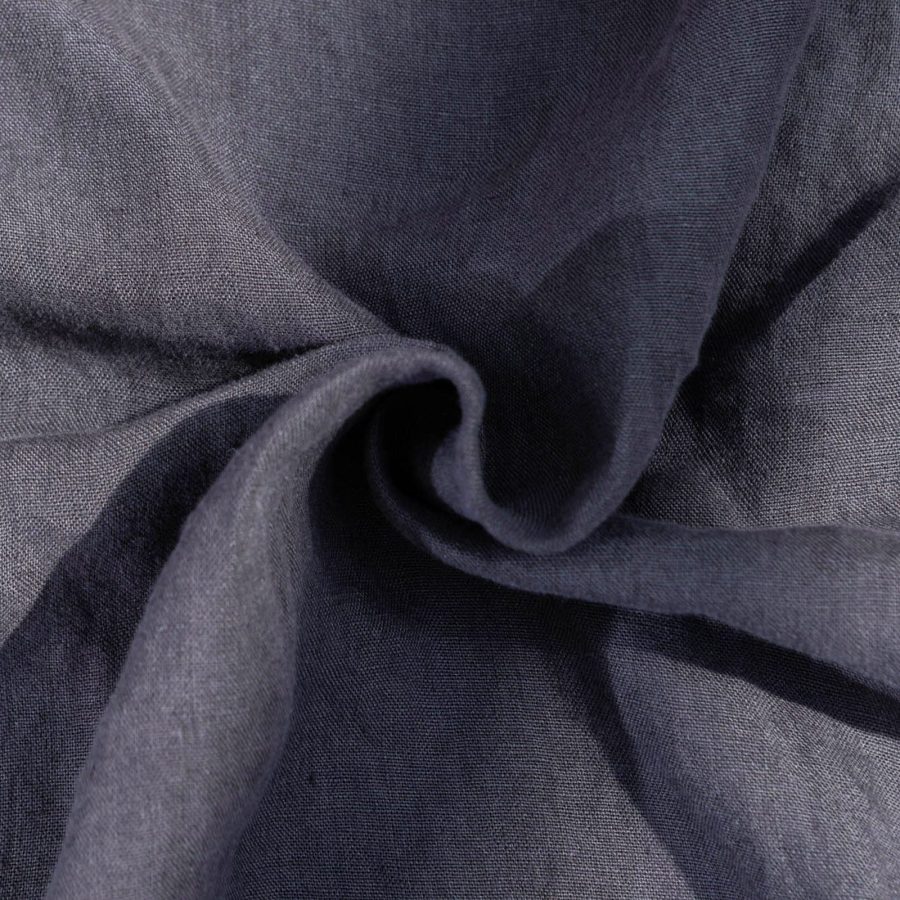 Stone Washed Linen
Natural & elegant
Used for thousands of years, linen fabric is known for its softness, natural look and durability. Linen is a plant fibre obtained from the flax plant, grown in an environmentally-friendly way without the need for chemical inputs. Thanks to its specific washing treatment, linen becomes softer and more comfortable to the touch. It feels comfortable and light, making it the perfect choice for sheets, pillowcases and duvet covers. Natural and elegant, thanks to its slightly crumpled appearance you can oscillate between a sophisticated, delicate or casual decorating style.

Timeless, it adapts easily to all types of interiors. Linen is also renowned for its exceptional breathability. It naturally regulates temperature, which means it will keep you cool in summer and warm in winter. Washed linen fabric allows optimal air circulation, wicks away moisture and feels cool while you sleep, promoting restful rest. Extremely durable, linen is a strong and resilient natural fibre, making it a wise choice for bed linen that is subjected to daily use. Washed linen fabric retains its quality over time and even becomes softer and more comfortable with each wash. Stain resistant and easy to care for, it can be machine washed at a moderate temperature and air dried or tumble dried at a low temperature.
* We have decided to work with fabrics woven at 300tc (300 thread count = 300 threads woven per square inch, which corresponds to 118 threads/cm²), which offers the best ratio of longevity to luxury.
Some brands on the market claim to offer 900tc or even 1200tc, but only work in single threads: they use several cabled ply threads to artificially calculate a higher number of threads per square inch (or centimetre). Do not therefore always rely on the number of threads given on the packaging.
Natural down and feather filling
Light and soft
Our bedding has nothing to envy the greatest Palaces! Made from ultra-rounded down and feathers of French white ducks, for a luxurious filling power (750 CUIN). Contrary to popular belief, there is no difference between duck down and goose down, both are equivalent in quality and thermal capacity. The only difference is the price linked to rarity, geese are more expensive because they are rarer than ducks.
On the other hand, there are ducks and geese with down and feathers that have a higher loft than others (compare with Asian down, which is cheaper and has a much lower thermal capacity with very small and flat feathers).
As with the rest of our products, we have pushed the development of our bedding with organic cotton. This is why the covers are made of 100% certified organic cotton, ultra resistant, hotel quality, certified down proof in 230TC (91 threads/cm2) to prevent the down and feathers from pricking or escaping.
The respect of animals is guaranteed and traceable thanks to the Downpass® certification of our French manufacturing workshop, which up-cycles down and feathers from the French food industry.
Cotton Flat Knit
Comfortable & Cosy
Timeless quality, very soft, textured, warm and discretely designed, is used for our plaids/throws. It compliments both classical and modern interiors.
Hotel quality terry towels and bath linen
Soft & Absorbent
Our Hotels quality towel and bath linen range is knitted in terry with high twist yarns to ensure optimum quality and longevity. This quality has been specially selected to meet the requirements of our Hotel customers who wash towels every day in industrial laundries at very high temperatures.
The fabric retains its properties over time and its softness when dried in tumble dryer. Even if it is not really ecological when the weather is nice, it is the only way to keep towels soft.
We refuse to produce fabrics with "low twist" yarns that are even softer when purchased, but lose cotton fibres with each use/wash and eventually disintegrate.
Luxurious and enveloping
Collection of luxury bath towels, 100% produced in Belgium. This GOTS certified local and organic range is much more comfortable than in hotels. Exceptionally soft and of exceptional quality thanks to the long fibre combed cotton. Extraordinary touch thanks to the Low Twist Technology spinning and long loop weave. An optimal weight of 600g/m² for a soft, enveloping and ultra-absorbent effect. Thicker than classic bath linen, it wraps in softness and comfort. Its perfect thickness makes your movements fluid without the risk of losing it, which often happens with towels of 650-700g/m². Guaranteed sensations you can't do without.
Do not hesitate to contact us for more information on fabrics and colours.
We can also send you swatch samples in a specific fabric or colour on your request via the contact form.